Treasure Mountain Junior High Teacher, Meghan Zarnetske, Offers Program On Bias And Privilege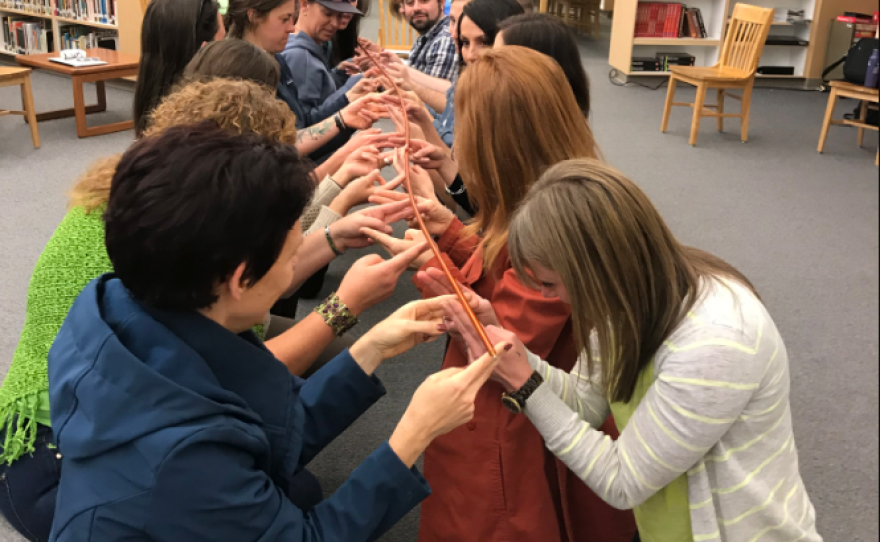 We are taught about success in life from the time we are born. As children we grow up having a dominant narrative of what success looks like and if things like race, culture and religion aren't discussed, people often develop a sense of wrongness when it comes to being different from the mainstream. Park City's Treasure Mountain Junior High School offers a program for teachers to consider how bias can influence how we interact with others. Carolyn Murray has this:Meghan Zarnetske is a Science Teacher and Instructional Coach at Treasure Mountain Junior High School. She started a bias awareness group last year that included teacher representation from nearly all the schools in the Park City district. She's mediating the group again this year starting on Thursday, September 6th. It's an eight-week program and participants learn about identity, biases, diversity and social justice. The mission for the Critically Conscious Teaching program (known as CCT)starts with looking at bias and realizing everyone has it.
"We are born into our own identities and they are reinforced or not depending on narratives that we experience through our dominant culture or growing up in our families or through a religious endeavor. For example, the dominant narrative that I was taught as a child is: success equals...you're married …like for me as a female, I was supposed to marry a man….and have two kids and a dog and a white picket fence and make X number of dollars and that equals success. The program just arms teachers with the understanding and the language to use to talk about things like race and sexuality and gender identity in the classroom as day to day topics."
Zarnetske says silence about a thing essentially marginalizes that thing. She uses race as an example and says there is a lot of privilege that comes with having white skin.
"Silence and not talking about a thing suggest through our programming that it's not talked about because it's wrong…quote wrong…or some sort of otherness. That's why we call it marginalization because it shifts it from the center. And the thing about whiteness is there's a lot of privilege that comes with it that as a white person myself, Iv'e never had to think about my race. I can walk into any public place and people don't look at me because of my skin color whereas if I were a person of color, I might experience that differently."
The curriculum is called Teaching Tolerance which is a division of the Southern Poverty Law Center. Equity and equality are two strategies used to produce fairness. Equity is giving everyone what they need to be successful. Equality is treating everyone the same. Equality aims to promote fairness, but it can only work if everyone starts from the same place and needs the same help.
The Critically Conscious Teaching Co-Hort is open to school district teachers and staff. She says it doesn't happen often within the faculty but when groups or individuals get labeled, she wants teachers to speak out.
"When off color jokes are made in the faculty room, we are willing to speak up or when someone others a group of students as those kids…like what do you mean by those kids?"
Each week addresses a different topic covering identity, implicit bias, sexism, racism, sexuality. They spend one session doing a policy audit.
"The perception is that teachers believe they can't talk about certain things. I have them go through and look at the policies at the state, district and federal level. They realize there is a lot we can about, we just choose not to."
Zarnetske is teaching a new elective this year for Treasure Mountain Junior High students called Social Justice and it is based on the same premise as the CCT program.
There's no fee to attend the Teacher's class but she says be ready to feel uncomfortable. The first session is Thursday, September 6th and runs the following seven Thursdays. It's 4 to 6 pm at Treasure Mountain Junior High School. Go to mzarnetske@pcschools.us for more information or to sign up.