Parleys Canyon Fire Update - Tuesday August 17, 2021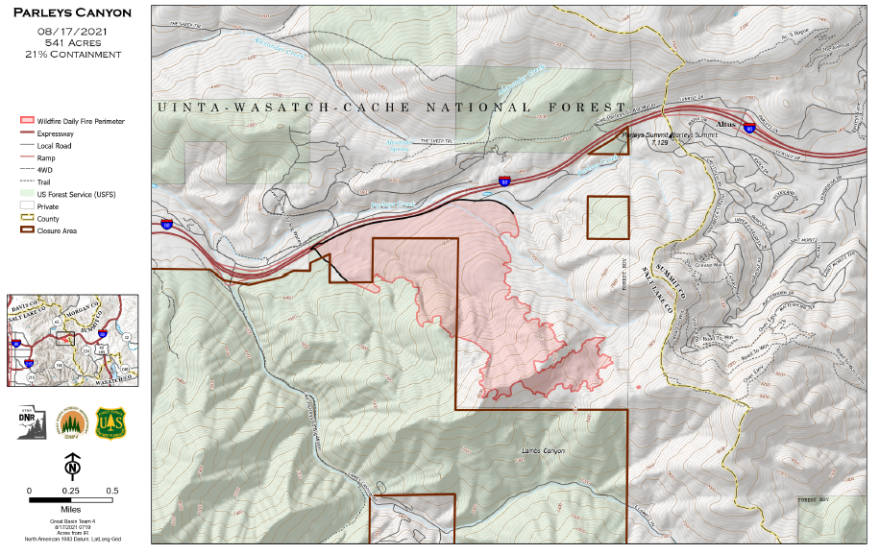 6:55pm The Summit County Sheriff's Office says the mandatory evacuation order has been lifted for ALL residents in Summit Park, Timberline and Upper Pinebrook as of 8pm Tuesday night. And Fire Information Officer Jesse Bender says the Parleys Canyon Fire is now 40% contained. No word yet on whether the fire grew Tuesday. Bender says acreage will be assessed Wednesday morning.
5:10 pm: All Pinebrook residents can return home tonight beginning at 8 pm. Officials ask people not to return home any earlier because fire trucks and other heavy equipment are still in the area and need to get out. The mandatory evacuation order for Summit Park and Timberline until Thursday 8pm is still in place. Lt. Andrew Wright with the Summit County Sheriff's Office says that evacuation order could change if conditions allow.
12:00pm No significant changes since the morning. Fire Information Officer Jesse Bender says cooler temperatures and overcast skies have helped, but the forecasted winds still make things uncertain. Winds have picked up in Old Town Park City and the Pinebrook areas.
No measurable rain has fallen on the fire area yet, but Bender says fire crews are digging water bars to help spread out the flow of water and reduce the risk of mudslides as rain picks up this afternoon into tonight.
Fire activity continues to be smoldering spots with limited flare ups.
If weather becomes dangerous for firefighters with rain, hail, and lightning, crews will be evacuated and the fire will be monitored from vantage points in the area.
Bender says no matter how much rain the area gets, crews will be on the scene until the fire is completely extinguished.
8:30am Fire Information Officer Jesse Bender says the fire grew to 541 acres Monday. She said there is still a lot of smoldering timber within the perimeter, which is a visible sign the fire is still active. The highest priority for firefighters is the east side of the fire where homes are. Dozer lines from Sunday continue to hold the fire back and now ground crews are using chain saws and hand saws to create fire breaks.
Bender noted thunderstorms in Tuesday's forecast could bring erratic winds and lightning strikes that could spark more fires. Rain is also in the forecast, which could cause debris flows, but Bender noted that there are no structures below the fire that would be threatened. However, it's possible a debris flow could impact I-80.
7:00am Summit County issued a declaration of emergency Monday night as concerns about the Parleys Canyon Fire lead the Sheriff's Office to extend evacuation orders.
Firefighters are worried about a red flag warning issued by the National Weather Service from noon to 9pm Tuesday. The warning is for lightning after an extended dry period, microbursts and gusty winds. Possible thunderstorms are expected in the afternoon that could produce winds in excess of 40 mph. Showers are expected Tuesday night through Wednesday.
216 firefighting personnel are on the scene and one more handcrew is expected to arrive today. They say there is a moderate potential for growth in the southeast portion of the fire located in a heavily timbered bowl with a chance of uphill runs and spotting potential into the Summit Park neighborhod.
Containment remains at 21%. The fire did not grow on Monday and remains at 539 acres.