Passionate Parkites eager to give input on Bonanza Park
More than 200 community members attended a Park City open house Wednesday that marked the start of a new visioning for the Bonanza Park neighborhood.
Park City wants residents to answer the question: do you still want an arts and culture district?
Luis Calvo is a planner with MKSK, a firm partnering with the city on gathering public input about the future of Bonanza Park.
"This is the first community meeting out of three," Calvo said. "We have launched an online survey which can be accessed via our website bonanzapark.com… We will be compiling all of this information and summarizing it, and then we'll be presenting it to city council at their August 29 meeting with key takeaways and findings from all of those conversations that we've had so far.
"After that update to council, we will be back probably in mid-October for a second community meeting where we will share those results again, and then have some initial concepts and ideas that stem from those."
As part of the research process, the city sent delegations to Toronto, Washington, D.C., and Columbus, Ohio, to meet with city leaders and learn from projects they've done.
Andy Hecht attended the trip to D.C.
"It got me thinking about the economic opportunities that the city has," Hecht said. "It really put me on the path of thought of - what is the desired ROI (return on investment)? Does the city want money from this space? Hypothetically, we could put in a park and that's just gonna cost money forever. If we want to maximize ROI - build all market-rate residential. No one wants that, but there's a mix. There's a happy medium in there with art space, with potential event space, with open parks and access."
Mitch Bedke went on the Toronto visit.
"The way they deal with traffic was kind of counterintuitive to me," Bedke said. "They'll build a 7,000 person high-rise apartment and require zero automobile parking spots for the developer, and 3,500 bike spots need to be there. But they're basically eliminating all parking spots in downtown Toronto to curb the traffic and parking issues. So people generally jump on the public transportation."
While Park City is nowhere near Toronto's population of more than 3 million, Kimball Art Center Executive Director Aldy Milliken said there are still valuable things that can be applied back home.
"I always say that Park City is a small town with big city problems," Milliken said. "We need to learn from those big cities. We have transportation issues, we have connectivity issues."
Park City purchased the land at the intersection of Kearns Boulevard and Bonanza Drive in 2017 with the intention of turning it into an arts and culture district.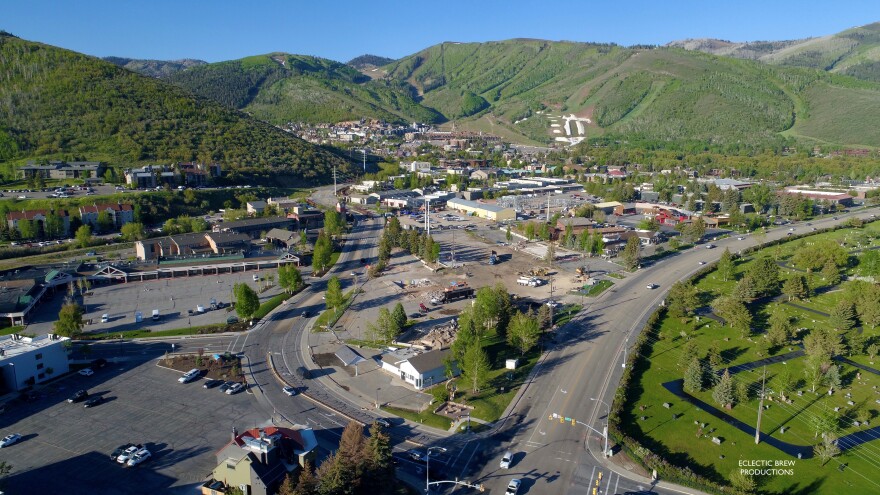 The Kimball Art Center and Sundance Institute were both seen as core tenants.
The city ultimately chose to drop those plans amid the COVID-19 pandemic, as residents questioned the cost.
Milliken said that in a post-COVID world, the city is in the right place to hit the reset button.
"I know that we arrived at an arts and culture district after the Jack Thomas administration. I think we'll end up there too," Milliken said. "I'm not taking it for granted. We're not taking it for granted. We're working hard to articulate what we want on that property, and the fact that we can be a really valued community partner for this really incredible piece of land that's really sort of another center of our community."
Future IQ CEO David Beurle, another consultant partnering with the city, said previous community surveys like Vision 2020 will also be incorporated into the Bonanza Park plan.
"What we're trying to do is leverage that and build on that and sort of pull the threads of what people saw as their sort of vision for the future of Park City, and pull that into the implementation in things like these Bonanza Park study areas and so on," Beurle said. "Because there was so much good thinking and good thought in that… crazy not to use it. But people in this community really do engage and participate, and so we want to continue to build on that body of thinking as we go forward."
He said from a broad view, a common theme was clear at Wednesday's open house.
"People are really wanting to make sure that the sort of priorities and the needs of the community residents are in the foreground," Beurle said. "Everyone knows that there's a big economy here, but having this be a livable place. And people are talking a lot about Bonanza Park from a lens of what I call a neighborhood view. What sort of neighborhood do we want to create in that area? And how does that fit in? And how does that provide sort of opportunities and experiences and amenities for locals?"
A link to the online survey collecting feedback on the future of Bonanza Park can be found here.