Grey Wolves No Longer Federally Protected Starting January 4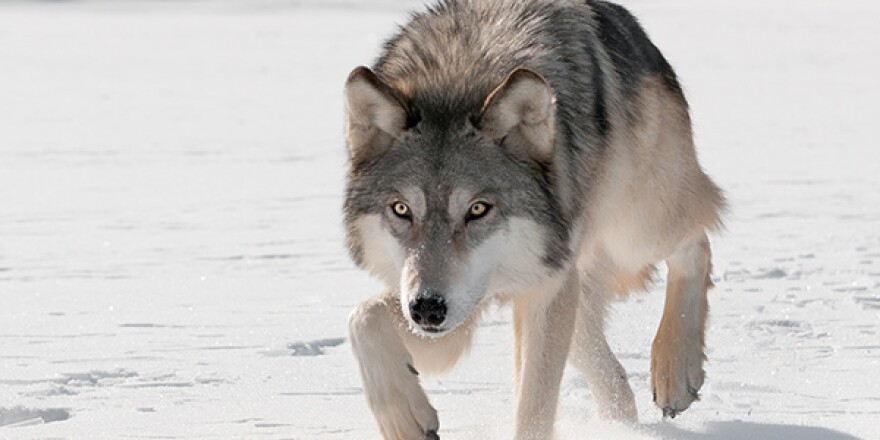 There are around 6,000 grey wolves in the lower 48 states. 4,000 of them are in Minnesota, Michigan and Wisconsin, and about 1,600 in Idaho, Montana and Wyoming, according to Amaroq Weiss with the Center for Biological Diversity - a nonprofit based in Arizona.
She said the number of wolves in the county is a fraction of what it used to be.
"About 1% of what their former historic numbers were and they're occupying only about 10% of what their former historic range was," Weiss said. "So not very much at all."
And now she worries that number will only get smaller after the Trump administration recently decided against designating wolves as a protected species under the endangered species act.
Starting January 4, states will be able to decide what level of protection they want to give the animal. But in Utah, Weiss said, wolves will likely not be protected.
"The state wildlife agency in Utah and the official state condition at the legislature has been that the state is not going to allow wolves to establish in Utah," she said. "That's been a policy that's been on the books and in Utah for quite some time now."
Weiss said wolves' bad reputation is unwarranted because they offer a top-down benefit to the ecosystem.
"Wolves are actually only successful at taking down their prey 5-10% of the time," she said. "They're really not efficient hunters. But by being on the ground in the ecosystem, they keep those deer and elk on the move. And that keeps the vegetation that the deer and elk feed on healthy because it's not getting over-browsed. And having recurring and vegetation come back for instance, allows for nesting habitat for birds. The ripple effects from their presence is enormous."
And she said wolves offer scavengers like beetles more access to food. don't have access to food.
"With milder winters, animals that might otherwise die over the winter will not die," she said. "Wolves put food on the ground for other species, to the extent that some scientists believe that wolves will potentially be a climate buffering factor for other species who are scavengers and may not be able to find dead animals to feed on."
You can find more information on the environmental impacts of grey wolves and what will happen once they are removed from the endangered species act at biologicaldiversity.org.
KPCW news reports on climate change issues are brought to you by the Park City Climate Fund at the Park City Community Foundation, an initiative that engages Park City in implementing local, high-impact climate solutions that have potential to be effective in similar communities.