Emotions Flare During School Mask Debate Before Summit County Council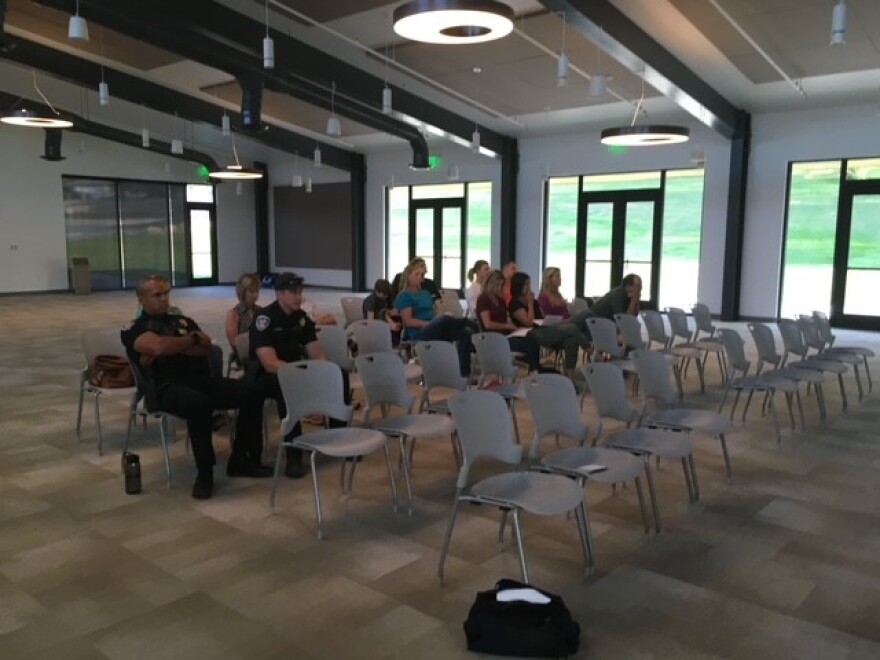 An emotional debate about mask mandates for Summit County's school children took center stage before the County Council Wednesday night.
The council, convening at the Ledges Center in Coalville, took public comment on a Declaration of Public Health Emergency and an Order of Constraint. Those documents certified the county's order issued last weekend, saying that masks would be ordered if any elementary school reaches a 2 percent 14-day positivity rate in its entire campus population of students, faculty and staff.
In the hearing, nine people spoke against the mandate, all of them appearing in person.
Twelve people supported the mandate. With one exception, they were on Zoom.
Among the comments, Elizabeth Smith said that the mask order is about fear, not data. She said the beginning of the pandemic was marked by panic and irrational choices.
"Basic virology went out the window. The '14 day to flatten the curve' devolved into, 'We must close down everything except Wal Mart and shelter in place.' This released unprecedented restrictions on our economic and medical freedoms, and destroyed an untold number of lives and livelihoods in the process, including my nine-year-old son."
Joann Funseth said the pandemic restrictions have been mentally and emotionally damaging to youngsters.
"Imagine the effect of learning that breathing the air is dangerous, that their friends can make them sick and that hugging their grandparents could kill them. For any parent urging their kids to wear masks, I would invite them, visit the classroom for a day, better yet a week. Wear the mask alongside your child, measure your physiological effects and imagine the impacts of your kids trying to learn through the muffled voice of a teacher. Personally, I want to share that my daughter is one of these victims. She's been hospitalized for suicide attempts. She has anxiety, crippling anxiety. She was so excited to go back to in-learning school. But the effects of the masks—the extreme fatigue, the headaches, the dizziness, the nausea, all known effects of CO2 poisoning. When I consulted her pediatrician, hoping to get a mask exemption, I was told to treat her with Tylenol."
Other critics said more effective ways to curb the virus in school would include improved air circulation, handwashing and other sanitation measures and keeping sick kids at home.
Following a line-up of mask opponents, a county employee stepped up to speak—Brian Craven, who is usually present to operate the Zoom technology and to monitor the time for each speaker..
He said his two-year-old granddaughter has had COVID three times and now has lung problems. He asked the audience if they want her to die.
As a verbal altercation broke out, Council Member Doug Clyde reprimanded the audience, and Acting Council Chair Chris Robinson called for order.
"(Clyde) Hey! Hey! Stop! Stop! We haven't even asked you not to applaud, for crying out loud. You've behaved really like a buncha hooligans. (Robinson) Please direct your comments at us, Brian. (Craven) I apologize. I did not start the timer because I'm not here with a prepared speech. I'm not gonna go over 3 minutes. I'm not part of a concerted effort to get everybody out to complain to these poor men, and women, about a mask mandate. I'm asking you, are you willing to let my granddaughter die because you can't see past the nose on your face. Really? A wise man once said, 'Love thy neighbor as thyself.' I wear a mask, not for me, but for you. I would ask you to do the same."
Meanwhile, some of the mandate supporters said the 2 percent guideline isn't enough—one person called it "reactionary"—and they said a mask mandate should be applied for grades K through 12.
That comes amid reports that Governor Spencer Cox has considered an executive order that would bypass the state legislature-imposed ban on mask mandates and allow local schools to mandate masks.
The Summit County Council heard from Brian DePersia, who said he home-schooled his two children last year, one of whom is a special-needs child.
"Masks suck. I get it. I don't want my kids to wear masks either. But we don't know a lot. The Delta variant has only been the majority strain in Utah since June. And in two months, we're back to the same levels of infection that we were at in February. Last week, 16 kids have been hospitalized. Cases in children have climbed 22 percent in the last week. Twenty-four kids have died. A 1001 kids tested positive in Utah compared to 153 at the same time last year. And last year the world was locked down. They weren't doing sports. This year, they're out doing sports. They're seeing their friends. The schools are way more loose. There's gonna be way more COVID."
And Julia Wylie said they need to fight the pandemic, not each other.
"We know that not that many children have died from COVID. But even our CDC director said that one thing I want people to understand about children is we fall into this flawed thinking of saying, for example, only 400 of these 600,000 deaths from COVID have been in children. But children are not supposed to die, so 400 is a huge amount."
And the council heard from Greg Hatfield, a Park City resident, parent and an ICU nurse at Primary Children's Hospital. He said that last winter, during widespread masking, their ICU facility was nearly empty—not only of COVID but other respiratory illnesses. Last week, Primary Children's reported that its ICU had surpassed 100% capacity and had begun doubling children up in single rooms.